Lafarge Canada collaborates with Ahousaht First Nation
SEPTEMBER 2, 2020 - FLORES ISLAND, BC: 
Leveraging our own maritime distribution network and extensive presence throughout BC, our Lafarge Canada Hub City Paving team was uniquely placed
to support the development of road infrastructure for Ahousaht Nation in Maaqtusiis, Flores Island BC. Flores Island is a small island in Clayoquot Sound, off the west coast of Vancouver Island, British Columbia, Canada. The area of Marktosis holds the only major settlement on the island. Most residents are members of the Ahousaht nation and form the largest part of the Nuu-chah-nulth or Nootka First Nation.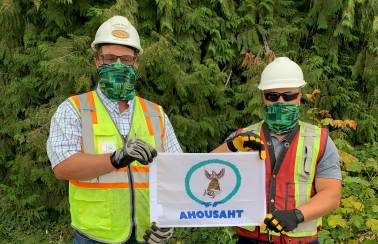 The job entailed barging in over 800T of asphalt mix, equipment and supplies across the Georgia straight and West coast of Vancouver Island and delivering the project in a tight weather window. 
Together with Hazelwood, the BC team worked hard to be fully self-sufficient and respect the current closure of the island to non-essential visitors. To demonstrate our appreciation for the Ahousaht Nation, Lafarge donated additional PPE and sanitization supplies to the Ahousaht Maaqtusiis community. 
Consistent with other Lafarge operations in Western Canada, the BC team is committed to benefiting our neighbours and collaborating with Canadian First Nations communities.