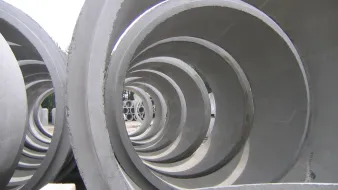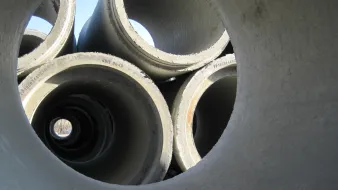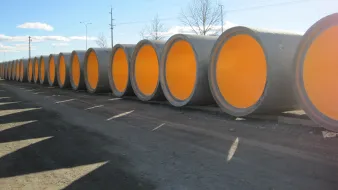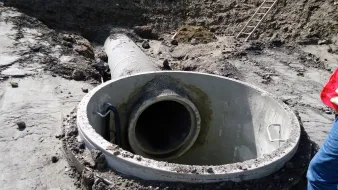 Advantages
Precast concrete pipe is an engineered product that can be designed to suit any installation conditions, including deep fills, shallow fills, and heavy equipment loading.
Lafarge pipe designs are based on extensive research and development. All production at Lafarge pipe plants is subject to testing as part of a third party Plant Prequalification program, which ensures every product has the following qualities:
Inherent strength - minimally dependent on backfill
Structural integrity - little to no deflection over the life of the product
Inertness - the products are non-flammable and will not react with substances in the ground
Dependable service life - products often have a design life of over 100 years
Historically, concrete is the most durable and sustainable material for infrastructure and major construction. This is achieved through:
Using locally available materials
Incorporating recycled materials(i.e. steel, fly ash)
Reducing replacement costs by providing longer service lives
Creating an environmental focus is all aspects of the design process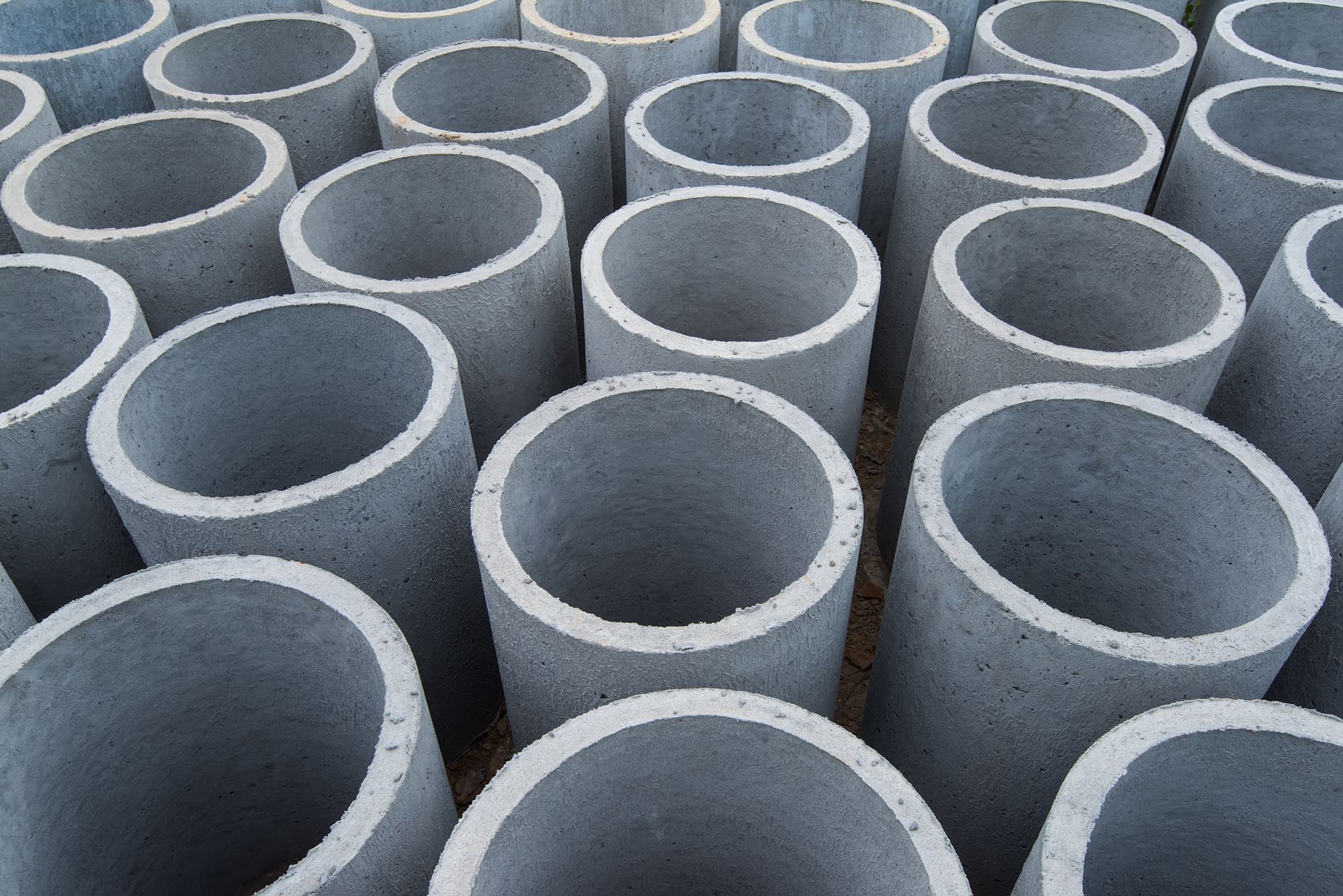 High quality precast concrete pipe is manufactured using state-of-the-art facilities, processes and equipment, integrated under controlled conditions. Several different processes are used, each capable of producing precast concrete pipe that conforms to the requirements of applicable standards. The following sections provide an overview of the materials used to produce a concrete product of consistently high quality.
Materials
There are two methods of precast concrete production employed at Lafarge facilities across Western Canada; drycast and wetcast production.
Materials used in the manufacture of precast concrete pipe consist of locally available aggregates and manufactured products. Each of the materials is covered by an ASTM standard relative to its properties and methods of testing. The primary components of the concrete are:
Cement
Fly Ash
Water
Aggregates
Cage machines, mandrels and wire rollers are the three most common means of fabricating reinforcing cages in a concrete pipe plant. This is done to ensure tight tolerances for our engineered products. Each product has different reinforcing requirements; for more information, please refer to the Lafarge Pipe eManual on the right.
The dry cast method uses zero slump concrete and vibration to produce a dense, durable concrete. This process allows the product to be removed from the forms after the concrete has been consolidated. Concrete pipe, boxes and manhole products are manufacture with this method.
Wet casting of concrete pieces, as the name implies, uses a concrete mix that is wet relative to the mixes used in other processes. Manholes, top and base sections and custom pieces are manufactured with the wet cast method,and then cured and stripped all at one location.
Sustainability
Here at Lafarge Pipe, we work to develop innovative solutions that help design professionals achieve sustainable design.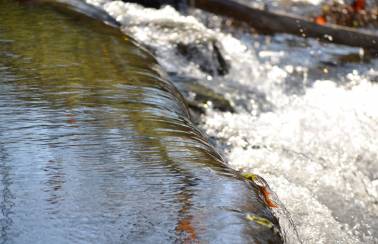 Environmental Sustainability
Locally Available Materials used in the production of concrete pipe reduce emissions associated with transporting materials.
Recycled Industrial Fly Ash is used to replace some of the energy-intensive Portland Cement, while also keeping this waste product out of the landfill.
Recycled Aggregates created from crushing old concrete products are used to make new ones.
Steel Reinforcement is also recycled after the life of a concrete product.
Concrete Pipe is Inert, meaning it does not react with or release undesirable chemicals in the ground once installed.
LEED Certification
The Leadership in Energy and Environmental Design (LEED®) certification, developed by the Green Building Council, provides technical standards for environmentally sustainable construction. These standards have become an international benchmark for high-performance, sustainable developments.
Stormwater Management
Lafarge offers a wide range of stormwater solutions in Western Canada, focused in the three key areas of capture and conveyance, stormwater treatment and retention and detention.