Whatever you do, you'll make a difference at Lafarge Canada. Because we know that your passion and curiosity are the natural resources the world needs. Thanks to our teams' energy, commitment and ideas, we are reinventing how the world builds to make Canada greener and smarter for all.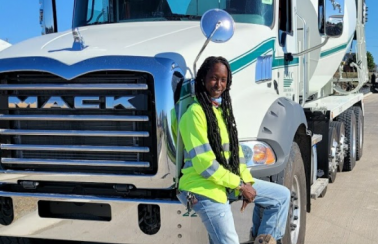 At Lafarge, we believe in finding the right person for the right role - no matter their gender identity. Our Women on Wheels program is a global initiative to encourage women to join our team and maximize their careers with us. 
On average, women are safer drivers than men, and their driving habits contribute to improved fuel consumption, less maintenance, and less vehicle wear and tear. Our drivers enjoy an independent lifestyle, potential for travel, competitive wages and benefits programs, plus ongoing safety training and modernized equipment.

Come #breakthebias with Lafarge and learn more here! 
We empower problem solvers, creative thinkers, and innovators to seek combined perspectives and voice opportunities to go further, faster and together. Whatever you do - you'll make a difference with Lafarge.
We're creating a high-performance workplace – one where anyone can be a problem solver, maverick, and innovator. A place where safety comes first, collaboration matters and diversity is celebrated. 
Lafarge employees work around the world, in various roles, solving problems for our generations and working together to build Canada better. Read on to learn more about their unique experiences and opportunities.