Maximizing Efficiency and Minimizing Environmental Impact: The Role of ECOPact and Lafarge Digital Concrete Solutions in Ledcor's Parks Tower Project
THE CHALLENGE

Ledcor, a prominent constructor in North America, is building Parks Towers - a unique mixed-use residential complex in the Edmonton downtown core that accommodates residential and commercial spaces in a safe, walkable, human-scaled environment. With 1000+ units of varying sizes, a main floor commercial space, and indoor LRT access, the structural design includes a large concrete transfer slab. As a mass concrete element, the transfer slab requires additional considerations during construction, such as:
Managing concrete heat of hydration to prevent thermal cracking
Achieving the required 40MPa concrete strength for formwork and shoring removal, as well as loading the slab
Logistics over 2200m3 of cast-in-place concrete in the downtown core
Site safety with over 80 onsite personnel
Embodied carbon emissions of concrete
 
THE SOLUTION

Collaborating with Ledcor and formwork contractor Pagnotta, Lafarge devised a multi-tiered solution for the transfer slab that included a targeted approach for schedule and cost savings and streamlined logistics via Lafarge Digital Concrete Solutions (LDCS), while reducing embodied carbon emissions with ECOPact low-carbon concrete.
Lafarge specialists leveraged SMARTherm, a proprietary Lafarge digital solution, to model the thermal concrete properties of the transfer slab, eliminating the need for costly and time-consuming trials and reducing the risk of thermal cracking. This also enabled concrete mix optimization for the use of ECOPact low-carbon concrete to lower project embodied carbon.
On-site SMARTCast real-time concrete thermal monitoring was used to manage heating and cooling requirements, while SMARTCast "match curing" was also used to reflect more accurate strength gain than field or laboratory-cured cylinders to accelerate the project schedule.
ConcreteDirect, paired with onsite Lafarge project support, ensured smooth transport and pour logistics, as well as quality and performance.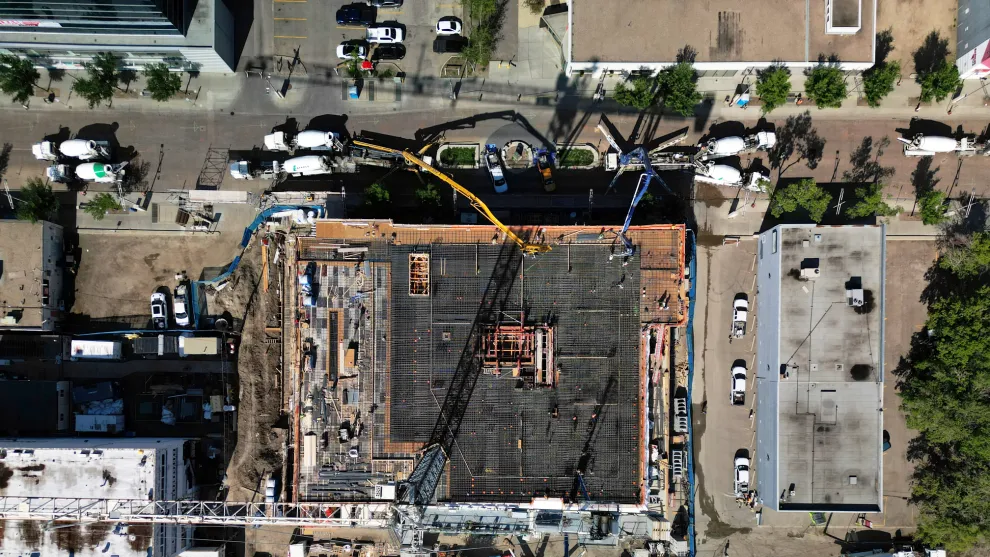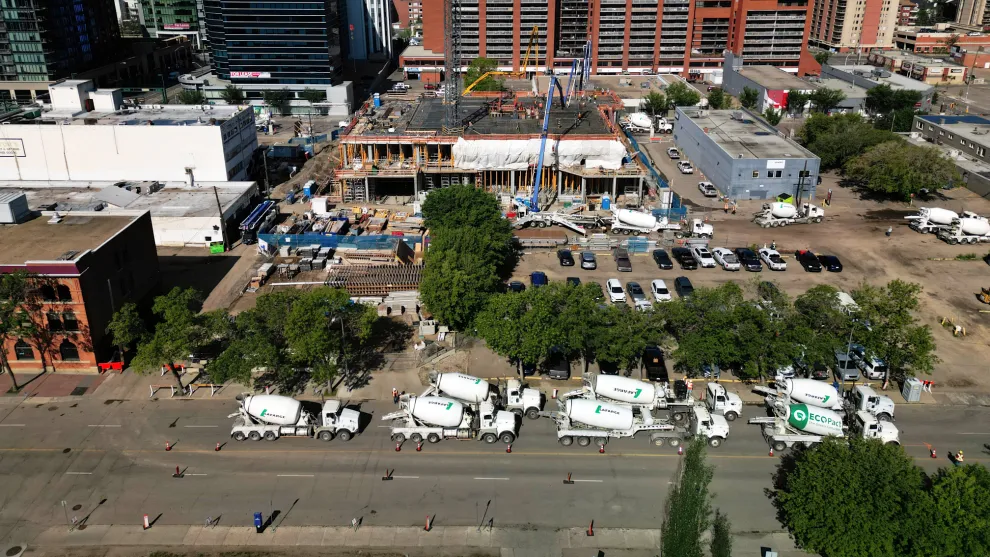 THE RESULT

The use of ECOPact enabled a 19% carbon emissions reduction from the original concrete design, which for the 2200+m3 of concrete used is equivalent to the electricity to power 24 homes for one year, or 500K kilometres travelled by an average gas-powered vehicle.
Achieving a 19% reduction in CO2 while maintaining structural integrity is an excellent example of accelerating green growth with ECOPact. Thank you to our Ready-Mix team in Edmonton for your hard work and Ledcor for allowing us to be a part of your success.
| Senior Vice President of Northern Alberta, at Lafarge Canada
LDCS SMARTCast ensured that temperature differentials were maintained to prevent costly thermal cracking. Formwork removal and reshoring activities were also performed based on the more accurate match-cured cylinders, which enabled overall reshoring removal two weeks earlier than traditional methods. This provided significant cost savings over the 1000s of shoring posts used, as well as allowed Ledcor to accelerate the schedule for interior and envelope activities in the Parks Tower podium.
ConcreteDirect was essential for streamlined concrete ordering, tracking, logistics, and real-time communication. Over the 12-hour pour, 2200+m3 concrete was delivered to the Edmonton downtown core via 240+ truckloads to 3 concrete pumps with no lost loads, and the 80+ on-site personnel worked safely and efficiently with no issues or incidents.
 
Congrats to our team and all trades involved at The Parks for recently completing a major milestone! ConcreteDirect worked great for the L3 transfer slab pour as 2,291m3 of concrete was placed, the team knew where each meter was and where it was going as there was great communication available through the app. ConcreteDirect was an important tool in coordinating trucks to one of the three pumps onsite and ensured a smooth pour.
| Project Manager at Pagnotta
It's remarkable to see the pre-planning efforts that were put into motion by Lafarge, Ledcor, and Pagnotta. Our success relies on our Customers and team members working together in order to have a safe and successful outcome. It was truly demonstrated on this job site.
| General Manager, Concrete, at Lafarge Canada