Lafarge Asphalt is committed to being the leading developer and supplier in North America of innovative asphalt products designed to optimize quality, performance, durability, and sustainability.
DuraTough is a semiflexible surfacing system for pavement areas that are subject to heavy and/or slow-moving traffic, or where a durable, hard-wearing, impermeable, and fuel-resistant surface is required.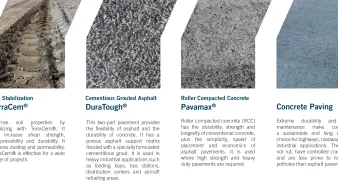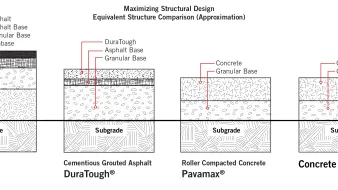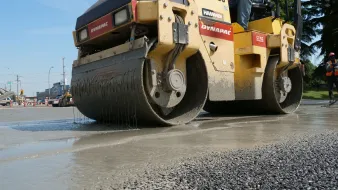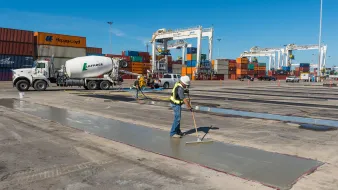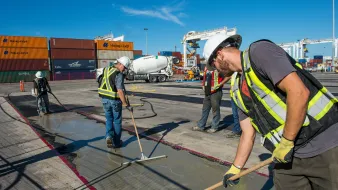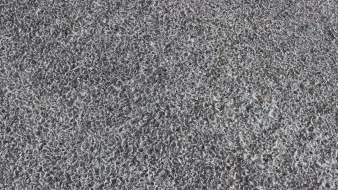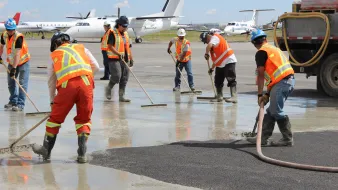 Technical Benefits of DuraTough
Can be laid directly on existing asphalt or concrete
Fuel and chemical resistant
High point-load resistant
High shear-stress resistant
Limited construction joints
Rapid curing and subsequent opening to traffic
Grout can be pigmented to provide a wide choice of colors
DuraTough is a proprietary grouted composite pavement that offers a jointless, durable, hard-wearing surface with very high resistance to deformation and fuel degradation.
DuraTough is suitable for both new construction and resurfacing contracts in heavy industrial and commercial applications such as parking lots, loading bays, distribution centers, aircraft refueling areas, bus stations, and parking lot/truck stop dolly pads.
DuraTough is designed using Lafarge's expertise in cement and asphalt technology as well as our experience in the installation and design of pavements. It offers a cost-effective alternative to concrete, where construction speed and application of traffic are factors.
DuraTough is the ideal solution for the highest-stress sites where heavy or high point loads occur. It is particularly suitable for sites where significant fuel spillage may occur.
DuraTough comprises a 75mm thick, porous asphalt support coat laid by conventional asphalt paving equipment. The cementitious grout is mixed on site and poured onto the support coat, completely filling the voids.
The grout's compressive strength exceeds 70 MPa, with a typical indirect tensile stiffness modulus of greater than 3,000 MPa.
DuraTough is not sensitive to water, and resists aviation fuel, diesel fuel, and gasoline.
DuraTough can accept vehicular traffic within 24 hours of, and pedestrian traffic 3 hours after, placement and grouting.