Lafarge's high purity Agri-Gypsum is a 100% natural mineral which is a suitable fertilizer for organic farming. Agri-Gypsum is a good source of sulphur for the soil and significantly improves soil structure and increases crop yields.
Characteristics
Gypsum is an evaporite mineral most commonly found in layered sedimentary deposits in association with halite, anhydrite, sulfur, calcite and dolomite.
Gypsum (CaSO4.2H2O) is very similar to Anhydrite (CaSO4). The chemical difference is that gypsum contains two waters and anhydrite is without water.
Gypsum is the most common sulfate mineral; it is approximately 21-23% calcium and 17-19% sulfur in its pure form
Calcium Sulphate Dihydrate between 80-99%
Agri-Gypsum improves crop yield and quality through the following ways: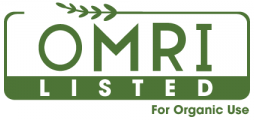 The Organic Materials Review Institute (OMRI) is an organization that determines which products are allowed for use in organic production and processing.
Please click here to see our certificates.
Improved crop yield and quality