Roller Compacted Concrete
A Pavement You Can Rely On
Based on Roller Compacted Concrete (RCC) technology, Pavamax™ is durable, economical and sustainable. RCC has a long service life requiring minimal maintenance. The high strength of RCC pavement eliminates ongoing costly problems traditionally associated with asphalt pavements.
Pavamax™: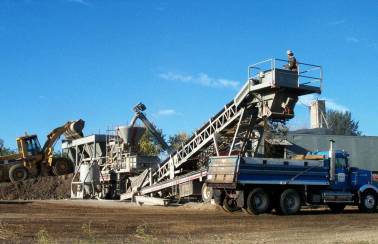 Eliminates rutting
Spans soft localized subgrades
Density results of 98% proctor
Will not deform under heavy, concentrated design loads
Does not deteriorate from spills of fuels and hydraulic fluids
Will not soften in hot weather
This difference?
Substantially reduced maintenance costs, as well as a better uptime for your facility.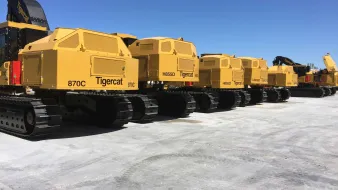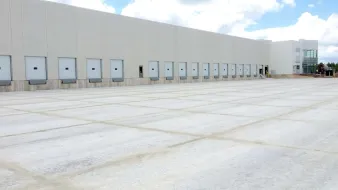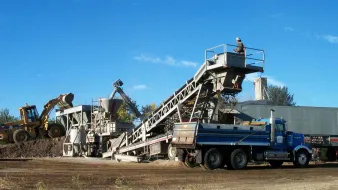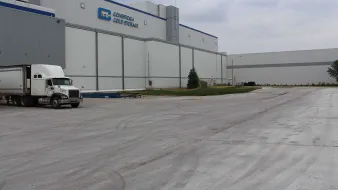 The long service life and minimal maintenance of RCC does not actually come at a high price tag. Its low initial cost adds up to economy and value. RCC owes much of its economy to high-volume, high-speed construction methods. Large-capacity mixers set the pace. The product is then transported by end dump trucks to high-density pavers that efficiently place the material. The material is then further compacted to increase its density, strength, durability, and enhance surface texture.
In addition to its long service life, RCC`s light colour reduces lighting requirements and helps combat the urban heat island effect. RCC pavement structure also requires substantially less granular material compared to an equivalent asphalt design which helps limit the consumption of natural resources. Increased densities from higher aggregate packing result in reduced levels of cement, allowing for the substitution of supplementary cementitious materials, including industrial by-products such as fly ash, ground granulated blast furnace slag (GGBFS) or silica fume, vastly reducing embodied energy and CO2 emissions.
RCC products like Pavamax™ fare well in lifecycle analyses, thanks to high durability and low energy consumption during production.
Applications
RCC is used when strength, durability, and economy are primary needs. Examples of such applications include but are not limited to,
Intermodal Yards
Warehouse Facilities
Trucking Facilities
Ports
Military Facilities
Composting Facilities
Mining Operations
Saw Mills Yards
Chip Storage Yards
Log Sorting Yards

Snow Disposal Yards
Recycling Facilities
RCC can be used also as a base under an asphalt pavement to increase the longevity of streets and roadways.