Retention/Detention Systems
Stormwater detention systems are designed to collect stormwater run-off for a period of time and slowly release the run-off into the public Stormwater system. They are commonly used for flow control and to meet release targets.
Stormwater retention systems are designed to retain stormwater run-off for on-site use, and only the overflow is directed to the public stormwater system. Detained water is commonly re-used on site.
StormTrap® offers the industry's best solutions for managing runoff, protecting waterways and improving the use of your property. Our stormwater management systems are designed to reduce overall footprint, accommodate any site restraints, and lower overall costs.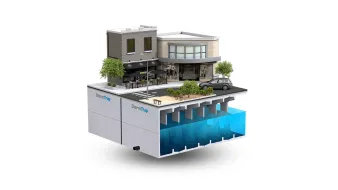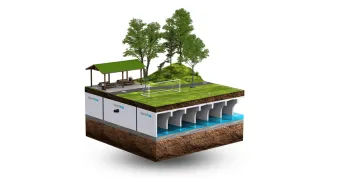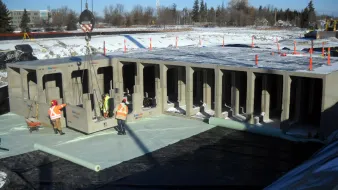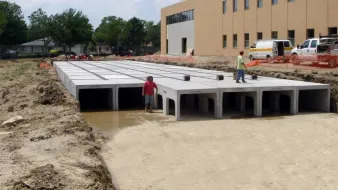 StormTrap's SingleTrap design allows engineers to customize a durable and maintainable Stormwater management system to your site's exact requirements. The SingleTrap design offers a wide range of options and benefits. Whether you are working in an extremely limited space or you are trying to preserve the land above for parks, buildings, or parking lots, StormTrap can help.
Exceeds CHBDC CL-625 highway loading with 305mm of cover, ideal for projects with a limited rim to invert
A durable, reinforced, high-strength concrete available in internal dimensions of 355mm to 1,524mm
Flexible base design allows for detention, retention or infiltration
An option for watertight systems
For more information please click on the following link:
StormTrap's DoubleTrap design offers the Stormwater management solutions you need to control the volume and discharge timing of runoff. Engineers can customize the DoubleTrap solution to meet your exact needs, and the modular design allows us to maximize your storage volume while minimizing your footprint and overall costs. Reduced installation costs combined with modular design and maximum land use makes the DoubleTrap system the smart choice.
The lowest overall installed costs
Durable, reinforced, high-strength concrete with internal height dimensions that range from 711mm to 3,048mm
A flexible design that can allow stormwater infiltration or remain a completely contained system
An innovative design that facilitates quick and efficient installations and the smallest overall footprint
For more information please click on the link below: