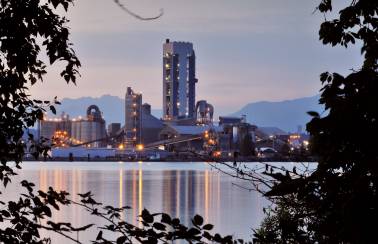 Project CO2MENT
About: CCUS demonstration project now in its second phase at Lafarge's Richmond cement plant. Flue gas from the plant's manufacturing facility is now captured through Svante's equipment – reducing the amount of gases released into the atmosphere. The system purifies the cement flue gas by trapping its contaminants to enable an efficient and durable CO2 capture process. Now that Phase II is underway, Phase III - a demonstration of CO2 utilization solutions such as reinjecting it into low-carbon fuels, CO2 concrete, and fly ash – will begin in 2021. 
Location: Richmond, BC

Updates & News:
October 2021: Lafarge & Svante achieve 1000hr milestone
The CO2MENT project has accumulated more than 1000 hours with 85%; CO2 recovery and a CO2 purity of 95%; with an on-stream factor of more than 85%; during steady operations. This is a first-of-a-kind demonstration in the world using metal-organic framework (MOF.) This novel capture material is based on the next generation of adsorbent nano-materials that act as a sponge featuring a high capacity of CO2 with high stability and selectivity over water and with modest regeneration penalty using low temperature steam. The operating data will serve as a basis of design for the joint feasibility study to assess the viability and design of a commercial-scale system designed to capture 1,500,000 tonnes of carbon dioxide per year at additional Holcim projects in the US. 
January 2021: Project CO2Ment Rolls on in Spite of 2020'a Challenges
Lafarge Canada Inc. (Lafarge), Svante Inc. (Svante), and Total S.A. (Total) have reached a major milestone of Project CO2MENT, a first of its kind partnership to capture industrial levels of CO2 emissions from a cement plant. The multi-phase project celebrates the completion of Phase II, construction to have the technology to capture and filter the CO2 from the flue gas. This is a crucial component to achieve the next stage of capturing CO2 flow at the Lafarge Richmond Cement facility in British Columbia.
"This has been a turbulent year for business and people due to the COVID-19 pandemic with many large scale projects being put on hold, but the perseverance that the people working at the Richmond Cement plant continue to show is evident in the success of Project CO2MENT," stated Brad Kohl, President, and CEO of Lafarge Western Canada. [...click for more]
 
December 2019: Lafarge Canada Gets Closer to Canada's Most Carbon Efficient Cement Plant
Following the implementation of Project CO2MENT, Lafarge Canada has moved to the second stage of carbon capture at the Richmond Cement Plant. LafargeHolcim Head of North America, Rene Thibault, visited the facility as Phase II of the project begins. Flue gas from the plant's manufacturing facility is now captured through Svante's equipment – reducing the amount of gases released into the atmosphere.
This remarkable change is part of Lafarge's drive to make Richmond the most carbon efficient cement plant in Canada. Along with carbon capture, the plant uses a $28-million system to use non-recyclable waste as fuel, directing it away from BC landfills. [...click for more]
May 2019: Inventys Partners with Total and Lafarge to Bring Carbon Capture Program to British Columbia
Project CO₂MENT will demonstrate and evaluate Inventys' CO₂ Capture System and a selection of CO₂ utilization technologies at Lafarge's Richmond, BC, cement plant over the next four years. This project is led by Inventys in partnership with Lafarge Canada Inc., a member of the global building materials group, LafargeHolcim, and Total, a major energy company. It also received financial support from CCP (CO₂ Capture Project), the Province of B.C., and Canada's federal government through the National Research Council of Canada Industrial Research Assistance Program (NRC IRAP). [...click for more]
Who is involved in Project CO2MENT?
Lafarge Canada has partnered with Svante (formerly known as Inventys), Total, and CarbonCapture to launch the pilot project. 
Why is CO2 bad for the atmosphere?
Carbon dioxide, or CO2, is a gas generated by the manufacturing of cement and is contained in flue gases emitted from the facility. The major threat from increased CO2 is the greenhouse effect. As a greenhouse gas, excessive CO2 creates a cover that traps the sun's heat energy in the atmospheric bubble, warming the planet and the oceans. An increase in CO2 plays havoc with the Earth's climates by causing changes in weather patterns.
How is CO2 created during the cement manufacturing process?
CO2 is created as a by-product of clinker production in which calcium carbonate (CaCO3) is heated and converted to lime (CaO), the primary component of cement. CO2 is also created from fossil fuel combustion.
Why not capture other flue gases?
The reutilization of carbon dioxide is a rapidly evolving marketplace, with hundreds of innovators developing solutions to convert the CO2 from damaging manufacturing byproduct to useful and safe products for reuse. Other flue gases are not as damaging to the atmosphere as CO2, and do not offer opportunity for capture and repurpose.
What do you do with captured CO2?
The CO2 captured at the Richmond plant is being considered for use in the coal mill fire suppression system as well as for water treatment.  To drive the circular economy, Lafarge Canada is currently working on various other methods to reuse the captured CO2, including investment into our other products such as concrete and aggregates.  Lafarge Canada is also in discussion with a number of technology providers that are interested in utilizing the CO2 for trials.
Can this technology be duplicated?
Yes – this system could be shared across our global network and is just one of several CO2 capture pilot projects that LafargeHolcim is launching around the world. Visit our main page for more: https://www.lafargeholcim.com/over-20-projects-carbon-capture-utilization-and-sequestration .
How does it work?
The Svante system works in two stages.  The first stage captures a portion of the flue gas and scrubs it through an amine system.  CO2 is then captured in a proprietary filter with steam used to release the CO2 for use. For more details, visit https://svanteinc.com/carbon-capture-technology/ .