Lafarge teammates recognized as industry leaders
DECEMBER 2020: Lafarge Canada teammates Arun Wadhawa, Jeevan Wadhawa, and Holly Shurey have been recognized by Rock to Road Magazine in their annual Top 10 Under 40 feature highlighting industry leaders in aggregates and roadbuilding.
The Lafarge team has been featured in Rock to Road before, and we're thrilled to continue our successes. Arun, Jeevan, and Holly are bright and driven employees, with an eagerness to continue being a part of our growth as Canada's largest supplier of sustainable building materials.
The feature on our employees can be viewed here, and we've provided a preview below: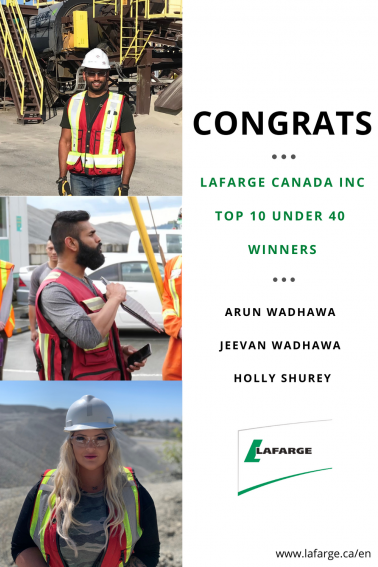 "I helped build that bridge and fell in love with the industry. Building materials is where I found my niche, my passion." - Arun Wadhawa
"Einstein said 'It's not that I'm so smart, I just stay with the problem longer.' That quote still stays with me." - Jeevan Wadhawa
"I hope that I can be proof for other young women that it is possible to start from the ground up as a woman and make your way up in this industry. All it takes is a little hard work and dedication." - Holly Shurey