Lafarge Supplies First ECOPact Zero concrete in Eastern Canada
On Monday, July 26th, Lafarge's Kingston ready mix plant produced and delivered the first ECOPact Zero concrete in Eastern Canada utilizing ECOPlanet cement in the mix for the first time as well.  As part of Holcim's 'Houses of Tomorrow' project to provide innovative, near zero CO2 footprint cement-based materials around the world, this marks the next step in our drive to demonstrate our developing know-how in sustainable construction around the world.
The project is utilizing this industry-leading technology to supply concrete to the footing, walls, and floors of a 4-plex project in Kingston, Ontario.  Lafarge is pleased to be working with Habitat for Humanity on this project, and will be donating all the concrete required for this exciting new build.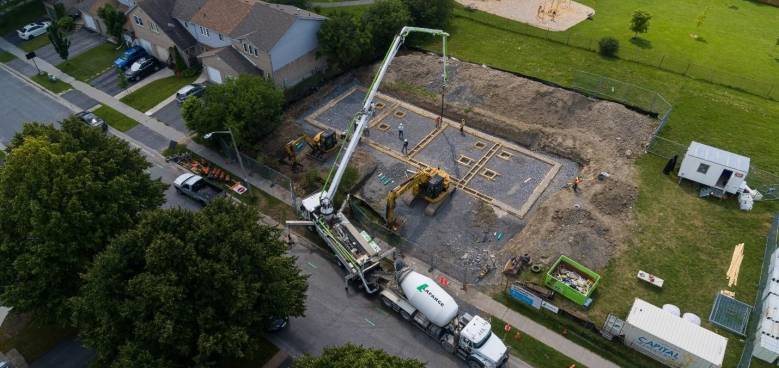 "We are very excited and grateful for the partnership we have with Lafarge. As we strive to design and build our homes with more energy efficient elements and sustainable products, it is a perfect opportunity for us to have Lafarge generously donate their ECOPact Zero carbon concrete mix for this project. We applaud Lafarge on their commitment to our Habitat project and for being leaders in in producing greener and more sustainable products to help protect our environment."
Deb Wilson, Director of Construction
Habitat for Humanity Kingston - Limestone Region
Lafarge's ECOPact ranges of concrete products is part of our commitment to building a greener Canada.
By choosing ECOPact instead of conventional concrete, you'll not only reduce your carbon emissions, but build sustainability into your project right from the start. Our family of ECOPact products has been developed to allow you to use sustainable materials for all construction applications - from foundation systems to structural elements and in between. ECOPact concretes meet CSA and ASTM standard specifications for concrete (25-50MPa) and can be tailored to meet specific project requirements if this is the most valuable approach for your project.
The Lafarge ECOPlanet label is only used for Lafarge's most sustainable products. The ECOPlanet material used for the House of Tomorrow project, recorded less than half the kgCO2/mt emission over a regular portland cement. We are excited about this first milestone and are looking forward to the future supply of our ECOPlanet solutions.