Lafarge Precast's Clayton Reservoir Project wins 2019 Award of Merit
"I don't imagine the RFP for this infrastructure project listed "poetry" as a requirement, yet in the delicate hands of this team, there is a demonstration that even infrastructure projects are capable of more than functionality." - Cindy Wilson, Canadian Architect Judges' Committee
The judges at Canadian Architect didn't hesitate when it came to acknowledging Clayton Reservoir, a new reservoir completed in December 2019 in Surrey, BC.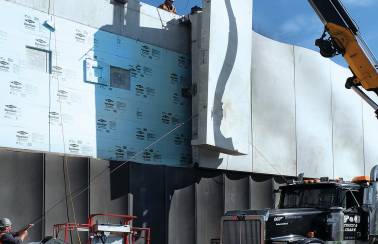 The structure was highly complex but also a centrepiece in the community's parks system - which meant that the merging of high performance with aesthetics was an essential component of success.
Lafarge Precast, in Edmonton, AB, teamed up with their construction partners, Pomerleau, to execute a highly demanding project with massive structural walls. The system was based on precast concrete cladding that hang from stainless steel brackets. The exterior facing of the panels, which are of white concrete, mimic waves with curved edges.
The Edmonton precast team is the only facility in WCAN that can provide these types of panels - both highly engineered, and beautifully designed. Congratulations to the entire team on a job well done! 
Click here to learn more about how Canadian Architect selected Clayton Reservoir as a winner.