Lafarge partners with Cematrix and the University of Waterloo on road base project
August 15, 2021 - WATERLOO, ON: Cematrix and the University of Waterloo's Centre for Pavement and Transportation Technology (CPATT) participated in an extensive research and testing program, on the use of CEMATRIX Cellular Concrete as road base material. 
The Research and Development opportunity lies in using Cellular Concrete as a sub base road material with the intent to extend the life cycle of a road through reduced rutting and general road fatigue, as first testing results would suggest. 
On Thursday, August 15th multiple road sections were constructed in St. Agatha, Ontario, each consisting of different densities of CEMATRIX Cellular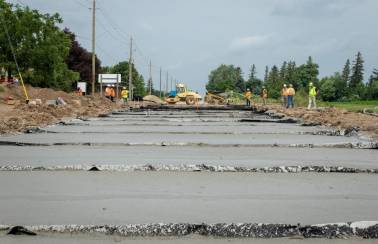 Concrete. Through the installation of state of the art technology in all four road sections, the students of the University of Waterloo will be able to conduct extensive Lab testing and monitor the performance.
Lafarge partnered with Cematrix on this exciting project and supported it through the supply of material from the Lafarge Cambridge Ready Mix Plant, resulting in a pour of 300m3 of cellular concrete on site. The mix included exclusively OneCem cement, Lafarge's sustainable Portland cement with significantly less greenhouse gas emissions than a regular GU cement. 
Steve Bent, Vice President of Cematrix, Andrew Stewart, Vice President of Lafarge Cement, Jamie Kleven, Lafarge Territory Sales Manager, and Steve Zupko, Lafarge Technical Sales Manager were all on site, witnessing the pour first hand.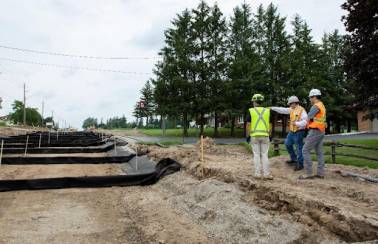 "It's always exciting to see the testing of new technologies live at site. Lafarge strives to actively develop, engage and promote sustainable solutions. Projects using advanced materials with new engineering approaches to build longer lasting infrastructure like this one here in St Agatha are important as we work to minimize the life cycle footprint of our activities. Lafarge is proud to partner with Cematrix and the University of Waterloo on this exciting work.", said Stewart.   
 
Cematrix expects additional information from the evaluation of the data that eventually will enable road design consultants to utilize CEMATRIX Cellular Concrete.