Lafarge Canada Receives 2021 Employee Engagement Award
The City of Edmonton's Corporate Climate Leaders Program is "a program to help corporations take action on climate change through active greenhouse gas (GHG) management across their operations."
Members have made a commitment to take action on climate change through active greenhouse gas (GHG) management across their operations. In addition to supporting members in the implementation of their GHG management practices, the City of Edmonton is working with Green Economy Canada to help build capacity for lasting change within member organizations.
The program will facilitate members sharing best practices and lessons learned, exploring emerging business opportunities related to the low carbon economy, mentoring newcomers and celebrating success.
Recently, the City has recognized participants for their leadership, including a corporate climate leader that has increased sustainability awareness and action among its employees. This year, we're proud to announce that Lafarge Canada is the recipient of the 2021 Employee Engagement Award!
Lafarge Canada has elevated its sustainability profile, and employee engagement, through participation in the Strategic Energy Management (SEM) Program and Corporate Climate Leaders Program.
Notably, Lafarge Canada has:
Image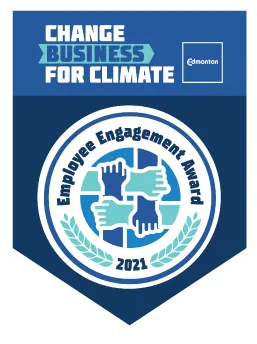 Formed energy teams at a number of facilities.
Regularly circulated tips on energy reduction to all staff.
Regularly presented sustainability results to supervisors and senior management—encouraging sharing of learnings between teams and recognizing employees and operations responsible for positive results.
Developed the Lafarge Environmental Awards (awarded annually on Earth Day) where facilities and employees are nominated and recognized.
Shared their actions and improvements on social media, other media channels and through a series of webinars: Everyone Onto the Boat, Strategic Energy Management (SEM - Real Stories/Real Savings).
About Lafarge Canada Inc.
Lafarge is Canada's largest provider of sustainable construction materials and a member of the global group, Holcim. With 6,000 employees and 350 sites across Canada, our mission is to provide construction solutions and products that build progress for people and the planet. The cities where Canadians live, work, and raise their families along with communities' infrastructure benefit from the sustainable portfolio provided by Lafarge, consisting of Aggregates, Asphalt and Paving, Cement, Precast Concrete, Ready-Mix Concrete, and Road Construction.
Media Contact
Kristen Marston
Communications and Marketing Manager, Western Canada
Lafarge Canada Inc.
kristen.marston@lafarge.com