Lafarge Canada once again recognized as one of Canada's Best Diversity Employers
Mississauga, March 5, 2021—It is with immense pleasure that we announce that Lafarge Canada has been recognized as one of Canada's Best 
Diversity Employers for the 7th consecutive year. Receiving this recognition validates our efforts to promote diversity across our business and reinforces our commitment to further create an inclusive workplace for all, where employees are encouraged to bring their authentic self to work.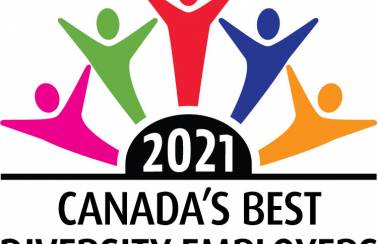 The competition rated our employee offering in the following five areas: Women, Members of visible minorities, Persons with disabilities, Indigenous people and Lesbian, Gay, Bisexual and Transgender/Transsexual (LGBT) peoples.
The following points include some of the reasons why we've been awarded:
∙        Along with a global Women's Task Force, Lafarge Canada committed to a 2030 action plan, which includes a goal of having 30 percent of management roles held by women by the year 2030
∙        The company also committed to targeting 50 percent of the participants in its leadership development program are female to build more gender-balanced talent pipelines for the future,
∙        Lafarge Canada partners with a number of local employment and career organizations to help job-seekers of diverse backgrounds access meaningful employment, such as Champions Career Centre, First Nations Friendship Centre, Immigrant Services Calgary and Aboriginal Link
"With our ongoing focus on diversity, through our newly implemented Diversity Committees across the Eastern Canada organization, we are committed to shifting the workplace to make it inclusive and equitable for all, because we firmly believe diversity is an important part of what makes our business successful," explains David Redfern, CEO, Eastern Canada. "This recognition highlights and validates our efforts, and we couldn't be any prouder," he concludes.  
"I'm proud of the team we have built here in WCAN, where everyone has a voice at the table," comments Brad Kohl, CEO, Western Canada. "Our culture of diversity and inclusion is fundamental to our success, and I am confident that we'll continue to grow and excel."
About the Competition
Now in its 14th year, the Canada's Best Diversity Employers competition recognizes the nation's leaders in creating inclusive workplaces for employees from five diverse groups: women; visible minorities; persons with disabilities; Aboriginal peoples; and lesbian, gay, bisexual and transgender (LGBT) peoples. The annual competition is open to any employer with its head 2 office or principal place of business in Canada. Employers of any size may apply, whether private or public sector. 
About MediaCorp and Eluta
Founded in 1992, Mediacorp Canada Inc. is the nation's largest publisher of employment periodicals. Since 1999, the Toronto-based publisher has managed the Canada's Top 100 Employers project, which includes 18 regional and special-interest editorial competitions that reach over 15 million Canadians annually through a variety of magazine and newspaper partners. Mediacorp also operates Eluta.ca, one of Canada's largest job search engines, which reaches millions of unique visitors annually and features editorial reviews from the Canada's Top 100 Employers project. The company also publishes The Career Directory, now in its 28th year – a free online guide for recent college and university graduates looking for employers hiring candidates from their educational background. 3 The full list of Canada's Best Diversity Employers for 2021 was announced in a special magazine published today and featured in the Globe and Mail. Detailed reasons for selection for each of the winners, with hundreds of stories and photos, were released by the editors today and are accessible via the competition homepage.
About Lafarge Canada Inc.
Lafarge is Canada's largest provider of sustainable construction materials and a member of the global group, LafargeHolcim. With 6,000 employees and 350 sites across Canada, our mission is to provide construction solutions that build better and more sustainable cities and communities. The cities where Canadians live, work and raise their families along with the community's infrastructure benefit from the solutions provided by Lafarge consisting of aggregates, asphalt and paving, cement, precast concrete, ready-mix concrete, and road construction. www.lafarge.ca
Contacts
Jessica Assaf
Communications Manager, Eastern Canada
Jessica.assaf@lafargeholcim.com
Jill Truscott
Communications Manager, Western Canada
Jill.Truscott@lafargeholcim.com