Promoting Greater Health through Cycling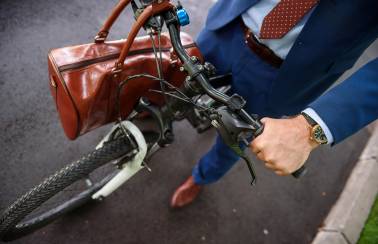 By partnering with key stakeholders, we will actively promote cycling as a valuable and sustainable alternative mode of transportation, which supports Canadians' health needs.
Vast amounts of peer-reviewed research support the idea that adoption of cycling can have a positive impact on health outcomes. According to a position statement released from the Canadian Association of Emergency Physicians, the "health benefits of cycling have also been demonstrated repeatedly. Cycling as a daily transportation option is an easily sustained way to meet physical activity requirements to maintain or reduce weight. These benefits in turn reduce the incidence of the most common chronic diseases of our time, including heart disease, diabetes, dementia, and certain cancers."1
It must be noted, however, that concerns regarding safety often present the most significant barrier for Canadians to adopt cycling as a means to meet the minimum physical activity levels necessary to maintain a healthy lifestyle.
In addition to the direct health benefits of cycling, Canadians will benefit from a reduction in urban traffic congestion and its associated environmental impacts, including smog, vehicle exhaust and urban pollution, which can have a damaging impact on health.
By taking a leadership position, Lafarge Canada Inc. will advocate for the highest safety standards achievable to protect cyclists and encourage more Canadians to adopt cycling as a means to achieve a healthy lifestyle.
1 Letovsky, E.; Rowe, B.; Friedman, S.; Snider, C., and Sullivan, E. 2014. Improving Bicycle Safety in Canada. Canadian Journal of Emergency Medicine, pp 1-5.