Strengthening Cyclist Safety through Cyclist Education and Outreach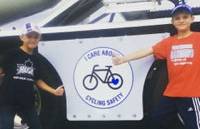 When we undertook our Cycling Safety Campaign, we acknowledged the importance of engaging the communities in which we operate in a discussion concerning how we can make cycling safety sustainable across Canada. Unfortunately, cyclist safety and sharing the road continue to be divisive issues; issues that have pitted different stakeholders against each other, each advocating competing interests.
Irrespective of which side of the debate we find ourselves, everyone benefits from sharing the road and road safety. Transportation policies advocated by most jurisdictions seek to ensure the efficient movement of people and goods through our communities, while maintaining public safety. We mustn't forget that in many cases, people who cycle also drive cars, and vice versa. In that respect, they are not two competing camps in this discussion; we are simply Canadians seeking to move through our communities efficiently and safely. Therefore, we all have a voice that needs to be heard.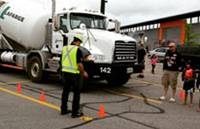 Through our community outreach program, we seek to engage all stakeholders in our communities in constructive dialogue to enable us to collectively discover solutions that ensure that all people across Canada can select the best transportation option to get them where they need to go, while ensuring they are protected at all times when doing so. As research has shown that cycling provides excellent opportunities for exercise, as well as a sustainable and environmentally-conscious means to get to school, to work, or to run errands, cycling and cyclist safety issues must be raised to greater prominence in our public discourse.
To stimulate this discussion, and to raise awareness on the importance of cyclist safety, Lafarge Canada Inc. began to hold cyclist safety events in local communities across Canada, starting in 2015. In many cases, we were able to partner with cycling advocacy groups, municipalities, retailers, and schools to cascade our message to as many people as possible.
We have been encouraged by the outstanding public support for our community events, and the opportunities it has afforded to discuss the importance of cyclist safety.
Read our Sharing the Road Guide here: