About our Cycling Safety Strategy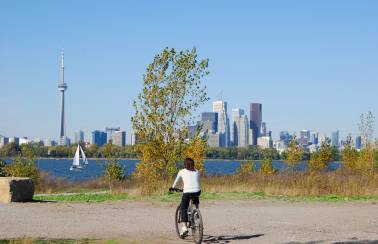 Our world is changing. The United Nations forecasts that by 2050, the global population will rise to 9 billion people, 70% of which will be living in cities. Growing populations present unique challenges: congestion, brownouts, flooding, and pollution to name a few. These pressures imply that we need to change the way we plan, build and maintain our urban centres. We need to build communities that are more accessible, more diverse, and more connected. As we build better cities, we need to consider how to move people within these communities safely and efficiently. We also need to consider how our communities can support healthier and more active populations.
For many Canadians living in urban centres, cycling presents a viable and sustainable alternative mode of transportation. Recent research has acknowledged, however, that safety concerns represent the greatest barrier for Canadians to adopt cycling.
This section of our website is dedicated to explaining Lafarge Canada Inc.'s approach to promote safe cycling throughout the communities in which we operate, by focusing on 5 key pillars: Health Promotion, Infrastructure, Vehicle Safety, Driver Education and Cyclist Education.
We invite you to navigate this site to learn more about Lafarge's Cycling Safety Strategy. Please contact us if you have further questions, concerns or suggestions. We'd love to hear from you.